Blast the cobwebs from your system with a spicy Thai noodle soup.
There are many varieties of Thai noodle soup, but a few classic ingredients often remain the same throughout. Our favourite combination of noodles, vegetables, microgreens and spices are combined in our own house style Thai noodle soup. If you don't like spicy foods, just leave out the chilly.
Ingredients
100g Noodles (avoid cheap packet noodles, use Mie or Rice noodles)
3 tablespoons coconut oil
1 tablespoon Thai red curry paste
1 teaspoon of sesame oil
1 medium sized onion, thick sliced
30g Small cut of ginger
1 nice red chilly
1 tomato (diced)
Handful of chopped peanuts to garnish
30g pea microgreens to garnish
Directions
Take a deep steel cooking pot, turn onto a medium heat, and add:
coconut oil, onions, ginger, thai red curry paste, sesame oil and chilly.
Just before the onions are cooked, add 250ml of boiled water, and add the noodles and tomatoes.
Just before serving, add 1/2 of the sunflower microgreens and stir.
Serve into a bowl and sprinkle the chopped peanuts and remaining sunflower microgreens.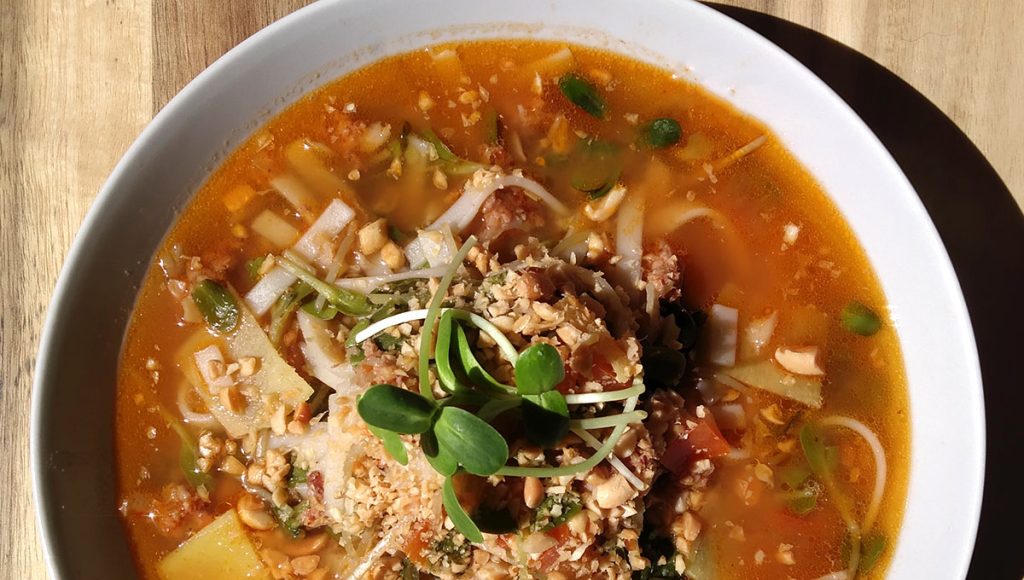 Asian Flavours,
The magic and mystery of Asian food can easily be created in your own home with an understanding of the ingredients required for the classic familiar Asian tastes. Once you know the common ingredients in Asian cooking, ginger, soy, garlic etc, and how they are often used together to make delicious dishes and sauces, they you too can begin to create magic.
Other Combinations,
Feel free to create random combinations of ingredients in your noodle soups, you may create the next culinary miracle.