An hearty meal for a cold winter evening.
There are all kinds of tasty add-ins to risotto, and mushrooms are just one of them. Mushrooms add an earthy, savory flavor to risotto that makes it a good complement to main dishes like roast chicken, pork, or beef. You can serve mushroom risotto as a side dish, a main dish, or a starter to a multi-course Italian menu.
Ingredients
6

 

cups

 

chicken broth, or as needed

3

 

tablespoons

 

olive oil, divided

1

 

pound

 

portobello mushrooms, thinly sliced

1

 

pound

 

white mushrooms, thinly sliced

2

 

medium

 

shallots, diced

1 ½

 

cups

 

Arborio rice

½

 

cup

 

dry white wine

4

 

tablespoons

 

butter

3

 

tablespoons

 

finely chopped chives

⅓

 

cup

 

freshly grated Parmesan cheese

sea salt and freshly ground black pepper to taste

30g pea microgreens to garnish
Directions
Warm broth in a saucepan over low heat.

Meanwhile, warm 2 tablespoons olive oil in a large saucepan over medium-high heat. Add portobello and white mushrooms; cook and stir until soft, about 3 minutes. Remove mushrooms and their liquid to a bowl; set aside.

Add remaining 1 tablespoon olive oil to the saucepan. Stir in shallots and cook for 1 minute. Add rice; cook and stir until rice is coated with oil and pale, golden in colour, about 2 minutes.

Pour in wine, stirring constantly until wine is fully absorbed. Add 1/2 cup warm broth to the rice, and stir until the broth is absorbed. Continue adding broth, 1/2 cup at a time, stirring constantly, until the liquid is absorbed and the rice is tender, yet firm to the bite, about 15 to 20 minutes.

Remove from heat. Stir in reserved mushrooms and their liquid, butter, chives, and Parmesan cheese. Season with salt and pepper and serve immediately.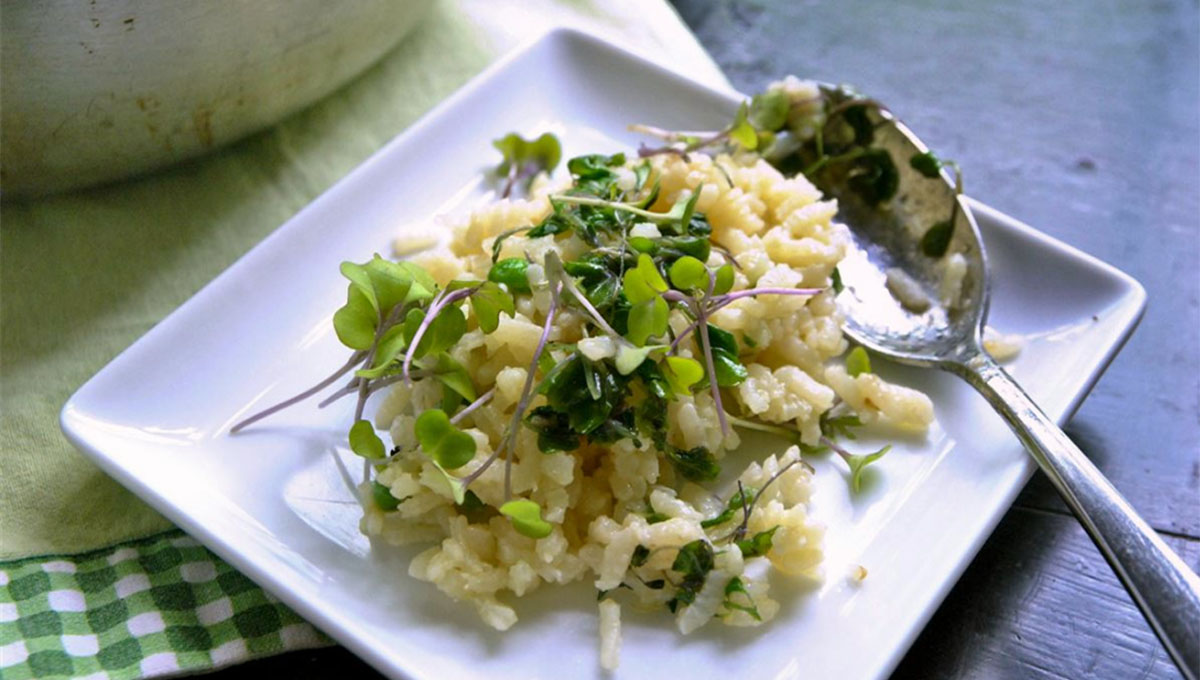 How to Store Mushroom Risotto
Store leftover risotto in an airtight container in the refrigerator for up to three days. You can reheat risotto, but it won't have the same creamy texture as freshly made risotto. Try forming leftover risotto into patties using an egg and fine breadcrumbs as a binder, and fry them in oil to make risotto cakes.
Can You Freeze Mushroom Risotto?
You can freeze mushroom risotto in an airtight container for up to three month, but the texture won't be the same as freshly made. Use a freezer-safe zip-top bag with the air squeezed out of it. Thaw overnight in the fridge.
Sources:
All Recipies, Gormet Mushroom Risotto
Pittsburg Post Gazette, Sweet pea oven risotto.